There is much more than GAMBLING in Vegas..
VIVA LAS VEGAS! Yep! It is true that as soon as you land at McCarran International Airport there are a bunch of slot machines. But this does not mean that this is all Las Vegas has to offer. The city is actually located in the middle of the desert, so you can imagine the HEAT! Stay thirsty, my friends! What happens in Vegas, stays in Vegas (wink).
Gambling not your thing? Keep reading for other things to do.
What to do?
WALK THE STRIP
I mean, this is a given. It is a great sightseeing walk as there is so much personality on the 4.2 mile strip that just taking a stroll can count as an adventurous experience. The ground is flat so this makes walking that much easier! Definitely bring comfortable walking shoes. It is also not a bad idea to walk about with small bills (for tips), since you will encounter a bunch of interesting characters. There is an option to zip-line the strip (wish I did this!). Again, make sure you always have your water handy so you are staying hydrated.
NIGHT LIFE/POOL PARTY
What kind of music are you into? You can find awesome promoters on Instagram searching hashtags like #vegaspromoter. Pro tip for my ladies: DRESS TO IMPRESS. You will more than likely get in free if you are in a group of all girls (and sometimes that comes with a free drink ticket). Get your Hot Girl Summer on!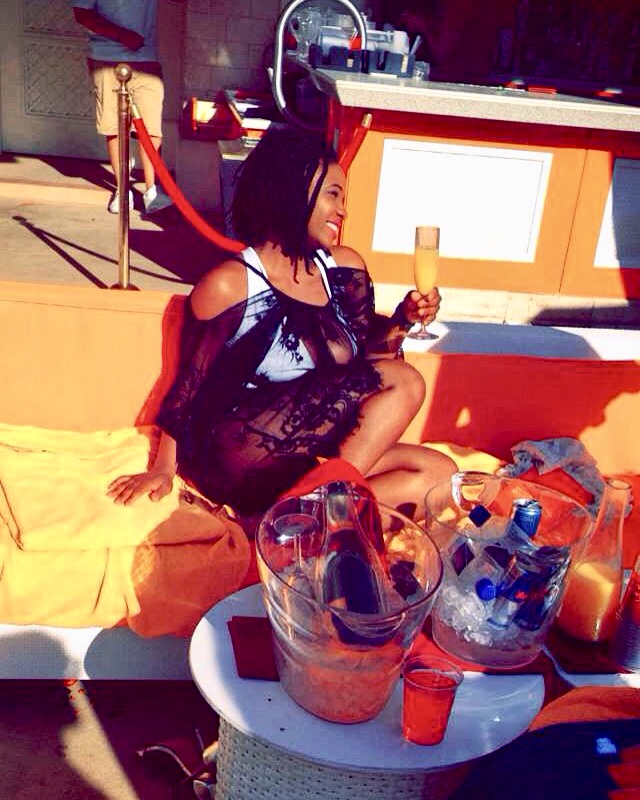 As the saying goes 'Ain't No Party Like A Vegas Pool Party!'. Go and see for yourself. I personally recommend Drais (on top of Cromwell) as it is one of my favorites. It has the perfect view of the Paris Eiffel Tower and Bellagio Fountains.
FOUNTAINS OF BELLAGIO
This is a Vegas MUST! Plus, it's free.. and we like to save money, yes? It is a musical water show and to me, it is better to see at night/sunset. The fountain typically runs from Monday-Friday every half hour from 3pm-8pm. Hours vary on the weekends (Saturday and Sundays) and usually start earlier in the day.
LAS VEGAS SIGN
Did you even go to Vegas? You absolutely have to make your way to the iconic 'Welcome to Las Vegas' sign for a photo op! Can you believe the sign has been there since 1959?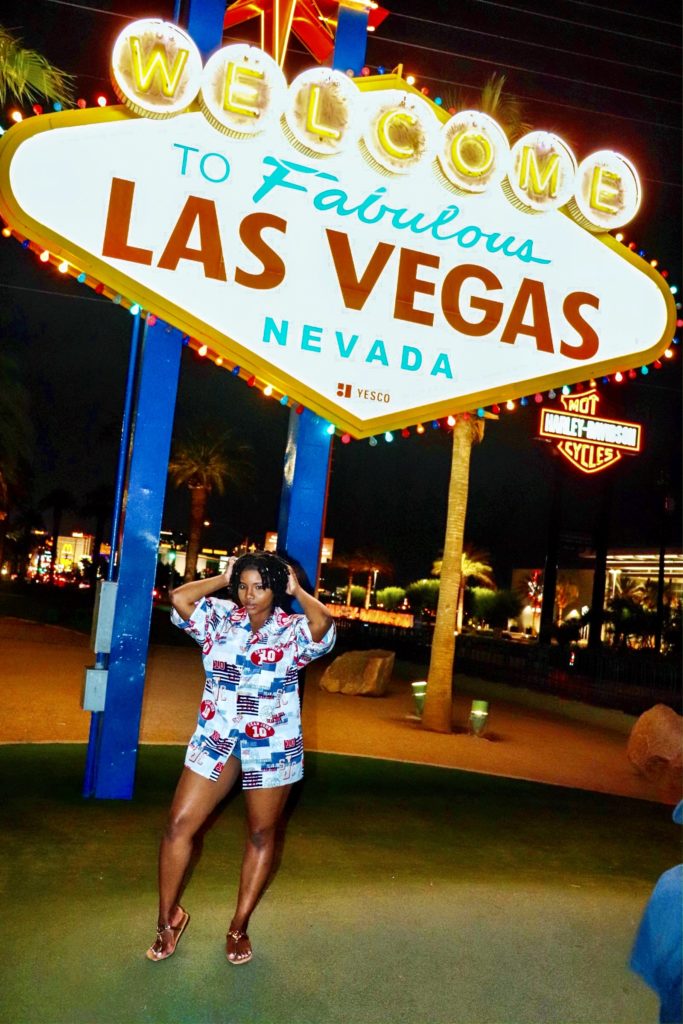 FREEMONT STREET
This is considered the Old Vegas and should definitely make it to your list of things to do in Vegas. Plenty to do here! They also offer an indoor zip-lining here. Free live music from 6pm.
TAKE A GONDOLA RIDE
Las Vegas is one of those cities that give you a taste of other countries. Italy is one of them! Ever seen photos of those fancy Gondola rides in Venice? You can do that here at the Venetian and it will feel like the real deal. You can choose an indoor or outdoor experience.
SEVEN MAGIC MOUNTAINS
Where do I even begin? One of Nevada's most unknown sights. The contrast between these colorful rocks and surrounding desert make for a great photo op so you know I was in! It was like a surprise in the desert. With that being said, this art exhibit by Ugo Rondinone (a renowned Swiss artist) is NOT one to miss! We decided to make this pit stop on the way to Page, AZ given it was only 10 miles south of town (a 28 minute drive from the strip). The Seven Magic Mountains was originally only scheduled to be viewed for two years, but due to its popularity it was granted an extension by the Bureau of Land Management until the end of 2021 (so go ASAP!).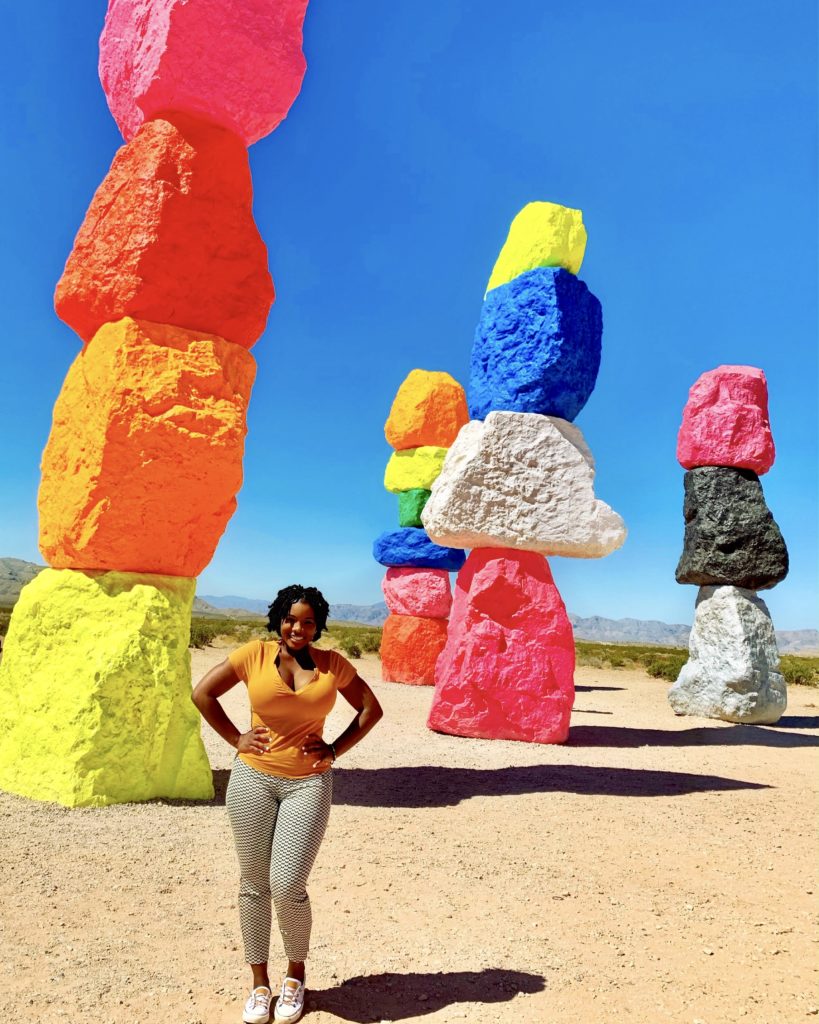 SEE A SHOW
Whether you are into drama, musicals, or magic, you are bound to find a show that fits your preference. For example, Cirque du Soleil, Magic Mike, and so many more! Some shows do require you to reserve in advance, so definitely look into this.
PRO TIP: Some hotels will try to offer you a 'special price' but I have found that their special prices are sometimes more than they are online. And other times, they couple it with some extras (food, drinks, etc).
FOR THE ADVENTUROUS
Love a good hike? Go to Red Rock Canyon if you want to stay closer to town. You can also check out Valley of Fire. Death Valley is a 2 hour drive out yet so worth it, so venture out if time is on your side. You can also do a helicopter tour that comes with lunch stop at the Grand Canyon. Hoover Dam and Lake Havasu are some other great options. If you are into museums: check out the Neon Museum or the Mob Museum. Into art? Check out the exhibit at Gallery of Fine Art at the Bellagio.
Where to eat?
Peppermill (across from Circus Circus – open 24 hours)
Lotus of Siam (Thai food)
Firefly Tapas
Brunch at Mon Ami Gabi (Paris)
New York, New York has one of the best 'food courts' in my opinion
Ellis Island (local and fairly reasonably priced)
Tacos El Gordo (authentic Mexican at a great price)
Where I stayed?
I have now been to Vegas a total of four times, and on my most recent trip, I decided to stay at New York, New York. Usually, I tell people to go to Vegas at least ONCE in their lives! After having gone three times, I was so over it. [Plot Twist] My partner had never been and that was completely shocking so you know I had to make it happen, one way or the other!
Lucky for us, they asked for our purpose of visit and when we told them, they immediately upgraded our room at no additional charge! They were also kind enough to give us free tickets to their roller coaster which was a hit! They served us welcoming drinks, and put us on a top floor where we had an enormous Jacuzzi and way too spacious for just two people. The comfort level was at an ALL. TIME. HIGH. Naturally, we did not leave our room until later that night when outdoor temperatures would have cooled down.
PRO TIPS:
No matter what you do, stay on the strip. Transportation is much more feasible and cheaper. It can be expensive staying at high end hotels, but there are many reasonable and affordable options as well. Also keep in mind that hotels are usually triple (or more) the cost if you are visiting on a weekend, so if you are flexible I would opt to go during the week. I have seen them run as low as $38 as opposed to $180 nightly. Also watch out for *hidden* daily resort fees that are usually not included in the nightly price. Some of the less expensive hotels on the strip are Treasure Island, Luxor, MGM Grand, Tropicana, Excalibur, SLS….the list goes on and on.
Make sure you have plenty of $1 dollar bills.
Do not rent a car unless you plan to drive to neighboring states like Arizona (I did this, and the views were impeccable) or Los Angeles.
I cannot emphasize this enough, WATER will be your best friend!
Download Vegas.com. It is an app that will show you all the fun stuff that is available to do for the time that you will be there.
Thanks for reading! I hope I was able to provide you some valuable insights for a magical trip! Please do leave comments/questions/thoughts below. Make sure you are following me on Instagram (as well as @sostylesescapades) and are subscribed to my YouTube Channel to stay updated on all things Travel 🙂